International Coaching Certification Programs
The International Coaching Community is committed to developing all levels of the coaching profession via training of the highest standards of quality. This training includes exercises for personal, business, team, and executive coaching.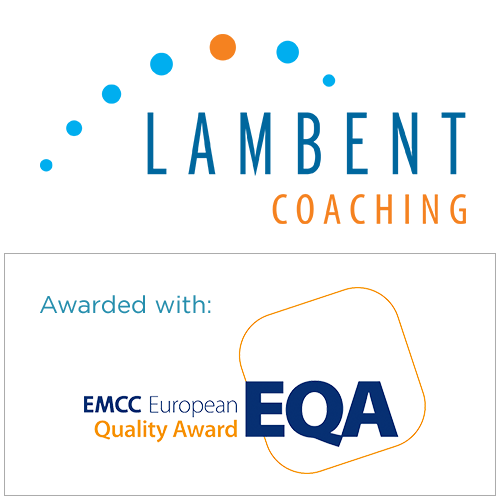 The International Coaching Community uses the training programs and methodology created by Lambent. The Lambent coaching methodology was awarded with the European Quality Award (EQA) in 2010 by the European Mentoring & Coaching Council (EMCC) and has been used to train over 12,000 people in 67 countries since 2001.
International Coaching Certification
With this program, you will be able to obtain the International Certification in Coaching and become a member of the International Coaching Community. This training will help you acquire and develop the fundamental skills necessary to practice coaching in the personal and organizational sphere.
International Certification in Team Coaching
Organizations that have already tested the effectiveness of individual coaching are introducing this philosophy at all levels, for which highly specialized coaches are needed to create more cohesive, creative, and efficient work teams.
International Certification in Executive Coaching
This program will allow you to be an accredited executive coach. The certification will enable you to guide leaders, executives and organizations to deliver better results and reach the highest level of performance.
International Certification in Business Coaching
More and more businesses are investing in coaching to develop their senior managers' leadership skills. This course will help you develop yourself as a coach and become one of the elite coaches for leaders. This is an advanced training course open to coaches certified by ICC who have already completed the relevant initial training.
International Certification in Life Coaching
Businesses lose millions of euros, pounds, and dollars each year because their employees are stressed, miss work, or make poor decisions when they're there. This unique course is geared to train coaches to help people balance their lives.
Planning
Participants work on planning and establishing goals through self-evaluation questionnaires, book reviews, and planning the learning experience.
Training
This is the required course to get certified. Participants develop their skills to learn key coaching concepts and put them in practice every day.
Certification
Participants complete certification activities, including client coaching projects, self-evaluations and conceptual integration tasks, book reviews, and self-coaching projects.
Experience ICC
Creating a global community of coaching professionals
Benefits for ICC Students
ICC program participants have access to a virtual classroom throughout the entire training and certification process, providing a Platform to turn in and keep track of certification tasks and communicate with the trainer and coursemates:
Access reading materials that complement the course
Download template documents to complete certification activities
Turn in reports and assignments to the trainers for evaluation
Access the gallery of master classes that will complement your training
Contact study partners throughout the duration of the program
As an ICC program student, you will immediately have access to the free seminars led by trainers from all over the world to accompany your training with coaching master classes.
Get more information
Request more information and we will answer you shortly.